Earlier this week I sent out a link to my new November monthly stars (which are here if you haven't ready them yet!)
The image at the top of the page read; second chances, reunions and a dash of madness.
I sent this email out to my mailing list and got back the following reply, which I hope the reader concerned won't mind me sharing anonymously.
She wrote…
Yeah – we had our reunion on Wednesday, getting married and in love Thursday…. stood up on Friday….. that went well…… lol
Which got me to thinking. It's really a good thing to remember that these are volatile times! The New Moon triggered crazy Uranus, Mercury is retrograde and pretty soon Mars will square Pluto on November 5.
So there are going to ups and downs and, especially with Mercury retrograde, there is also going to be a lot of back and forth.
Sometimes Mercury can really super-duper work in your favour, for example, and take you back to the past for a lovely reunion with someone you care about, and sometimes it can also upset your plans and the whole apple cart.
The reader who took the time to write to me above seems to have experienced a bit of both.
And in the fullness of time, she could yet find that she and her paramour are back together AGAIN.

This video is good for situations like this, when it's a bit hard to deal…
The planets are not just trying to annoy us…
"…reunion on Wednesday, getting married and in love Thursday…. stood up on Friday…"
The best thing about this reader's note is the obvious sense of humour she has about the whole situation. The planets don't clash just to annoy us. Mars and Pluto are on a mission to teach us about fire, ire, anger, explosions and detoxification. Mercury is meddling for a good reason too – because we need to think think and harder and again about something.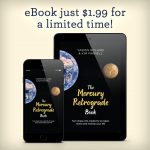 Moreover, her humour is good because, as I say in my new book The Mercury Retrograde Book, Mercury is the trickster of the zodiac, which is why sometimes Mercury retrograde just feels like it's trying to mess with us!
The reader who wrote in above finished her message with a jokey "that went well… lol!" which is EXACTLY the spirit that we need at this time.
Expect a bit of to and fro and back and forth and try to keep smiling and seeing the funny side if there is one!
Advance info about the retrograde…
Even once we get through the Mars/Pluto action, Mercury will still be retrograde until November 20. Between now and then, Mercury will make three planetary aspects … all of which are positive.

November 10 – Mercury retrograde sextile Pluto … something earth-moving you wanted to do before but didn't manage to pull off could happen now…
November 13 – Mercury retrograde sextile Saturn … a great time to chase up an agreement or contract you really want to gwt done but so far haven't been able to or which pertains to the past
Also November 13 – Mercury trine Neptune … a great day to re-uptake a meditation practise, go back to an old spiritual practise, dream a dream you dreamed before but maybe gave up on, get re-inspired about someone or something
Keep the faith!
And keep your sense of humour.
Everything happens for a reason, including Mercury retrograde!
If you have yet to take advantage of a very limited SUPER cheap price on my Mercury retrograde as an eBook, click here while the offer lasts! Then remember to visit http://mercuryretrogradebook.com/ to get your free bonuses!