Why Lisa Jewell writes such brilliant dark psychological thrillers…
If you met author Lisa Jewell, you would think she is all sweetness and light … she is just lovely, funny, quite irreverent, and I absolutely love her. We have been friends for something like two decades.
And yet her books lately have been so … scary! Her latest, called Watching You, has the coverline "You have a secret. You think it's safe. But what if someone is watching you?"
Every writer writes through the filter of their chart and Lisa is no different. In the past few years, Lisa has seemingly settled into a seam of writing dark, psychological thrillers and it suits her chart perfectly… no wonder her sales are soaring higher than ever.
Here's the thing; Lisa's writing planet, Mercury, is in her deep, dark and mysterious 12th House. It's the house of psychos and psychosis, the house of fear, the house of unconscious depths and psychology.
No wonder she is SO capable of writing books which leave us shuddering!
Her new book Watching You is being released this week – just as the New Moon eclipse prepares to trigger her 12th House … astrologically speaking, it's perfect timing.
This is the review for Watching You from the Sunday Mirror. 'Forbidden passions played out on a genteel Bristol street form the backbone of this creepy tale, in which nothing or no one is quite what they initially seem. With deadly infatuation, voyeurism and obsession leading to murder, it's darkly addictive stuff.'
All this could hardly be more 12th House if it tried!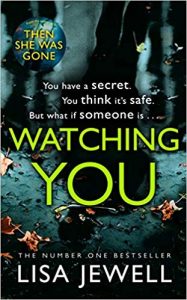 'Watching You' is actually getting RAVE reviews all over and Lisa is a writing genius, not to mention a Sunday Times and New York Times best-selling novelist, so if you love a good dark and thrilling novel, grab it! I know it will be amazing!
If you like a good, dark thriller, take a walk on Lisa's Mercury's dark side … and click here to check out her book here