So we are on the way to the Sagittarius New Moon – it takes place tomorrow …
Here are the times around the world.
New Moon in Sagittarius on November 26
New Moon details:
London: 26 Nov at 15:05
Sydney: 27 Nov at 02:05
LA: 26 Nov at 07:05
In another location? Please click here for your time zone.
We could say that the New Moon in the fiery sign of Sagittarius is making a cautious alliance with fiery planet Mars, the planet of drive and determination.
So if you have a lot to do this week, (I know I do!), the energies are on our side for getting it all done.
I will be doing a free New Moon ceremony on the Hay House Facebook page – you can register for it here.
Why do a ceremony?
One thing I found when I started to work with the Moon was that it was all very well knowing that there is a New Moon or a Full Moon or whatever but what can you actually do with the energy?
In India, where I learned a lot of what I know about celebrating the lunar cycle, at the ashram I have been going to on and off since 2005, each lunation is marked with a massive celebrate where up to 10,000 people come from miles around to honour the Goddess.
I love doing that when I'm in India. But when I am at home? It's not easy to fit 10,000 people into my living room or courtyard!
So I have adapted what I Iearned there into practises here.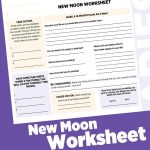 This New Moon, for example, we will be working through the New Moon worksheet which you can download for free here, we will do some New Moon intention setting and wish making, and I will connect with the Goddess Durga.
Durga is a super powerful Goddess who brings us courage and strength, which is what we need at the time of the New Moon, as we launch our new desires out to the Universe.
The Durga chant is super simple…
Om Durga-yei namaha
Doing a ceremony really grounds the energies. It's a way of stepping out of ordinary life and connecting with the energies with the powerful intention to really harness them. Again the link to register for my free Facebook ceremony is here.
This is the second-last New Moon of the year, so tap in!
Intentions you set now will flow into 2020 which is looking like a pretty amazing year!
If you love working with the planetary energies and the Moon, grab a copy of my Moonology Diary 2020 – stocks are already low so don't miss out!
If you buy from this link, you will also get a free sign up to my January New Moon 2020 MOON MANIFESTING WORKSHOP. This 90-minute workshop is valued at $225, but it's FREE when you order the Moonology Diary 2020 only from here.