Artwork by the amazing Lori Menna aka Cosmic Collage
Continuing our look at the astrology and moonology of the year ahead…
On 12 April (13 April Down Under) there's a wonderful alignment between Jupiter and Neptune, the planet of dreams and soul mates, meditation and illusion.
In my opinion, the best possible outcome of this is that the world is going to wake up to the fact that spirituality in general, and meditation in particular, is a life‑changer.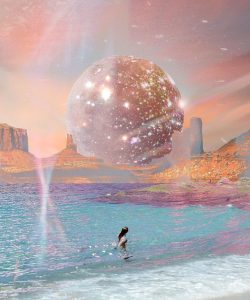 If you're thinking about learning to meditate this year, follow that hunch.
Neptune is also about dreams, poetry and following your bliss, so let's hope this influence pans out in a way that's uplifting and inspiring (two very Neptunian words).
In mid‑April, the Jupiter–Neptune alignment could also bring about some amazing opportunities for travel, big dreams, spiritual adventures, soul mate connections and massive manifestations.
However, it would be remiss of me not to mention that:
• The alignment between Jupiter and Neptune, which sees both planets on the same degree of the zodiac, is called a conjunction. This type of alignment can go either way: positively or negatively.
• Jupiter is known as, among other things, as the 'lots of' planet: it amplifies.
• Neptune's negative side is all about illusion, deception and disappointment.
So, are you setting yourself up for lots of meditation, inspiration, bliss, poetry and big dreams of what you can do with your life, or are you heading for the negative side of Neptune? Neptune is the misty planet, and sometimes we can put our head in the Neptunian mist if we don't want to see something.
Want to get ALL the details about how to manifest your best life in 2022?
Want to go deeper into all this and make 2022 as magical as you can?
Come to my my January 15, 4-hour deep dive into the astrology and moonology of 2022.
It's all about Manifesting with Moonology and the planets in the year ahead. Tickets and info are here.