We are at the Last Quarter Moon phase. This time around, it's the Last Quarter Moon in Pisces.
And if you think that sounds a bit familiar, you are right!
We just had another Last Quarter Moon in Pisces – the reason we have two is that the first one of these took place at the very start of Pisces and this second one is taking place right at the end of Pisces. It's all to do with the degrees of the zodiac … (each sign has 30 degrees – if you want to learn astrology, click here!)

So again, it's time to…
TALK LESS, FEEL MORE
This is the second time we have Last Quarter Moon in Pisces. Last month Quarter Moon was also in Pisces. But there is a difference.
The danger in your current situation is that you're going to be really good at starting things and less good at finishing them.
This card suggests that you need to talk less and feel more, so rather than telling people what you want now, 'feel' your feelings about what you want.
What comes up?
Do you believe in yourself or not? Perhaps you started strong but are running out of steam. If so, go within and ask yourself how committed you are to your goals. Remember that it's okay to change your mind.
Manifesting mix
One of the current energies is all about feelings and the other is in its head. Where are you? Can you meld the two? That's the way.
Manifesting mindset
Why ruin a moment with words? Sometimes feelings are enough. It's good to talk, but it's also good just to be.
Manifesting magic
These crystals work especially well for the sign of Pisces: Purple Fluorite, Labradorite, Sodalite, Amethyst, Desert Rose Selenite or Celestite.
Choose one and hold it while you meditate, visualizing a lustrous golden light swirling around you. Alternatively, keep your crystal close by as you work through your situation, or use five or six to make a crystal grid.
Your manifestation affirmation
'I feel all my feelings and it feels good!'
When to manifest your magic
The best time to work your magic is when the Moon is in Pisces, on a Thursday (Jupiter's day) or during Jupiter's hour.
The Last Quarter Moon in Pisces takes place when the Sun is in Gemini and the Moon is in Pisces. It knows that there's a time and a place for conversation.
This information is taken from my beautiful Moonology Manifestation cards
---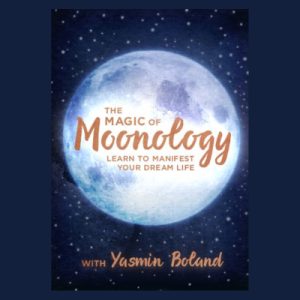 The Magic of Moonology™—Yasmin's seven lesson video course that focuses only on using Moonology for yourself
This online course still gives you everything you need to harness the Moon's influence in your everyday life—so you can work with her energies to manifest your dreams, to plan for the future, and to unlock your true inner power
Because we think The Magic of Moonology is so powerful (and because you may not have noticed it in our previous emails), we've decided extend the 50% off offer on this course for two additional days
Get it now for only $99—that's $100 off
Discount expires 11:59 PM PT on Wednesday, June 22, 2022 🌟