This week sees the move of the planet Mars into the sign of Scorpio. Now that's going to mean something different for everybody, but here is a quick rundown sign by sign.
If you are Aries or Aries rising, Mars is now moving into your sex and money zone. So expect to be more motivated about sex and money.
If you're Taurus or Taurus rising, Mars is moving into your Love Zone, so it's a very good time for you to be sorting things out with your beloved or ex.
If you're Gemini or Gemini rising, Mars is in your sixth house of daily work and health, so you should be feeling more energized on a daily basis.
If you're a Moonchild or you have Moonchild rising, Mars is in your fifth house. So either your children are racing around driving you a little batty or you're feeling more motivated about going out and having fun and maybe even having a bit of a tumble with someone you fancy!
If you're Leo or Leo rising, Mars is in your fourth house. So there's lots going on for you at home. Maybe even a few arguments. So watch out.
If you're a Virgo or Virgo rising, Mars is now in your third house. So even though you are probably the most mild mannered of all the signs, chances are you could be losing your cool this week. So breathe through any dramas.
If you're Libra or Libra rising, Mars is actually going to be in your second house of cash and property and possessions. So expect to be fired up about how to make extra money.
If you're Scorpio, Scorpio rising, Mars is now in your sign, which means you have Mars on your tail, you have a rocket underneath you, you are pelting forwards towards the future and you really do need to pace yourself.
If you're Sagittarius or Sagittarius rising, Mars is in your 12th house, which is a tricky place for it to be because the 12th house is very deep and dark and Mars is a burning ball of fire. It's a very good time for you to work through your fears to offset these energies.
If you are Capricorn or Capricorn rising, Mars is in your 11th house of friends, so make sure you don't go off like a rocket if you disagree with one of them.
If you're Aquarius or Aquarius rising, Mars is in your work zone so it's very good time for you to pursue your professional goals.
If you are Pisces or Pisces rising, Mars is taking place in your ninth house, which is the part of the chart where you keep your plans for study, travel, adventure, and where you go on a great cosmic quest. So expect to be feeling more motivated.
The other thing is whatever part of your chart I just mentioned, guess what?
You also have Mercury stationing there.
So there is more action in that same part of your life.
Mercury stationing means Mercury is ending its retrograde.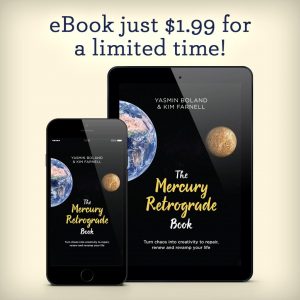 So all the drama of the last few weeks with Mercury retrograde should now start to ease up.
Moreover, if you've been trying to make your mind up about something and putting it off, chances are you now have all the information you need to make a decision. So just go for it.
Also, this week we have the Sun moving into the sign of Sagittarius. More on what that means in the next couple of days in my daily horoscopes, which you can find on my site, yasminboland.com or if you're in Australia on Yahoo.
Overall this week arguably peaks with a link between the planet of love, Venus and the planet of good luck Jupiter.
That link is taking place on November 24 in Europe and November 25 in Australia.
It's all about lots and lots of love in your life.
So November 24 is the night to spread lots of love, make lots of love and spend lots of money.
But watch out, because the following day sees a clash between Mars and Uranus. So if you have gone overboard, as we sometimes do, when Jupiter is active, there will be a piper to pay!
And that's it for this week. Have a brilliant week.