Would you rather listen? Here's the audio of this post…
Are you surrounded by sceptics (or maybe you're one yourself!) when it comes to astrology in general and Mercury retrograde in particular?
The good news is that there has actually been a very small amount of testing done on Mercury retrograde in recent times.
The other day, I wrote here about how travelling when Mercury is retrograde isn't dangerous or bad luck.
I just wanted to follow up on this. I did say that there can be rather annoying delays when travelling under Mercury retrograde, of course.
Let's consider the difference between dangers and delays.
We are not talking not about all hell breaking loose when it comes to your journey … it's about annoying delays, side trips you weren't expecting and, the classic travel annoyance and glitch, losing your luggage…
And now it seems research is backing up what astrologers have been saying about this since the dawn of modern aviation!
From the New York times: "According to figures from the federal Bureau of Transportation Statistics, the percentage of late flights into and out of La Guardia Airport during the past three summers rose to 24.6 during retrograde periods from 22.8 during non-retrograde periods.
"What's more, during the past three years, claims of mishandled domestic baggage rose to 5.44 per 1,000 passengers during months when Mercury spent more than half the time in retrograde from 5.38 per 1,000 in months when the planet was not in retrograde. That works out to one extra lost bag per 15,000 passengers. If you feel that your bag might be the one, you might want to rethink your travel plans."
And that is from the New York Times, no less!
So if you're one of the people who is extra sensitive to Mercury retrograde and surrounded by people who dismiss it as nonsense, well, now you at least have some small titbits of (apparently!) newsworthy evidence to back up your feelings.
It might now sound like much, however there's a reason why the venerable New York Times has mentioned it and considers it newsworthy; in fact, most scientists would consider anything over 0.05% to be statistically significant. So 1.8% isn't as small as it sounds.
Bear in mind that Mercury retrograde will
– hit some people's charts more than others – eg if Mercury retrogrades over one of your planets
– and hit some people's charts in different ways to others
For example, some of the people NOT on a late flight under the retrograde could well land at the other end of their trip on time, only to find their car rental papers messed up, in a very Mercury retrograde way, and so on…
The truth is, it's only NOW that bodies such as the very important-sounding Bureau of Transportation Statistics are starting to make enquiries into what astrologers have know about for years!
So expect a further trickle of evidence to come through as astrology becomes ever-more popular.
Let me teach you more…
If you want to know about all this and more to do with Mercury retrograde, and would like a free mini-class about it to boot, click here.
In The Mercury Retrograde Book, which I have co-authored with Kim Farnell, we lay out the essentials that you need to know for working with Mercury retrograde in ways that you never thought possible. This is a book about working with this famous cosmic cycle so that it works to your advantage!
In it you will learn…
• How to stop worrying about Mercury retrograde and start embracing it
• How to make the most of each Mercury retrograde, depending on which element it's in
• How to decode where in YOUR chart it's triggering
• What it means if Mercury retrograde touches one of your planets
• How to see Mercury retrograde as a cycle which lasts a lifetime!
Stay open to amazing things coming to you – again and again!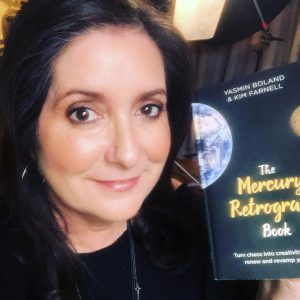 As you start to work with first the pre-shadow phase of Mercury retrograde, then Mercury retrograde itself and then the post-shadow phase, you will start to see how very connected you are to the cosmos and how far from working against you, this cycle can work for you.
That in turn will open you up spiritually as you start to see how much life really is a woven web of magical moments that we can chose to struggle with or live consciously with.
Far from fearing future Mercury retrogrades, you will start to anticipate and welcome them!
What you have read here is just the start of your learning adventure. It you're ready, visit www.mercuryretrogradebook.com and download your free gifts when you order my new book The Mercury Retrograde Book.