One thing I think more and more of us are doing is ceremony.
Yesterday I sat down to do a little puja ceremony in my kitchen. I was going to share it on Facebook live but as I tried to use my phone as a camera, it switched itself off. I thought "maybe I should just keep this personal?"
But me being me, I tried once more and again my phone switched itself off! So I got the message. (It often takes me two goes!)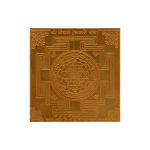 So I put the camera away and decided to do it all for myself. I poured some filtered water into a bowl and I sat down with a beautiful Sri Chakra metal yantra. It's something I was given by a friend in India – a flat metal square about the size of my palm, inscribed with a sacred geometry symbol; the sri chakra.
I was feeling quite low about something I don't really want to go into. It was making me sad and I also felt really anxious. It's sort of not really my problem but it has been getting to me.
Chant and be happy
Whenever I feel like this, I know one of the best ways to get through it is with ceremony.
I also put my kum kum on the table with the other objects. This is a bright red/magenta powder which is used in sacred ceremonies in India. And I got some tumeric powder, also from a sacred place in India.
And then I did my thing. All I do is I put a little sprinkle of kum kum on the metal sri yantra and I chant. I mix some water in and then I rub the kum kum into the sri yantra. Then I rinse it in the bowl and I do the same thing with tumeric power. And then the kum kum and so on.
It was extremely powerful and quite soon – to my surprise – I was crying and barely able to get my chants out.
It was a blessed relief. To really surrender this issue to the Divine.
Suddenly it was extremely clear why this was a ceremony just for me and not one to be broadcast on Facebook Live!
The thing which has been upsetting me has been going on for months. There has been an issue I just have not been able to get to the bottom of, partly because in a way it's not really any of my business. As a result I have found it very difficult to resolve. Knowledge is power so I have lacked any power.
A breakthrough…!
And then tonight, very unexpectedly, the information I needed to understand this situation came through. I can now see the light at the end of the tunnel!
I am convinced the ceremony helped.
And I am very grateful. Beyond.
This cerermony was just for me but I will do more for us all in the future.
My chants were
Om Namo Narayani (Narayani)
Sarva Mangala Mangalye
Shive sarvartha sadhike
Sharanye Tryambake Gauri
Narayani namostute
Narayani namostute (Durga)
Om Gam Ganapatye Namaha (Ganesh)
Ommm…
---
If you would like to join me when I do a public ceremony, find me on on Facebook (here).