Are you feeling stuck, unfulfilled, or uncertain about your path in life?
Are you ready for a transformative experience that can help realign your life and set you on a new path?
If so, I invite you to join us for a rare and magical Phoenix Full Moon eclipse gathering that promises to be a turning point for us all – if we set the intention to make it so.
As a Moon lover, you might know that Full Moon eclipses are rare and amazing times of change that often have a powerful impact on our lives – and that's putting it mildly!
Eclipses season – which we're in now – is the time between the eclipses (eclipses always come in at least pairs). It's a time when the energies of the Moon feel at their most potent. Think of it as a time when you can step into a new life, a new destiny, a new way of being.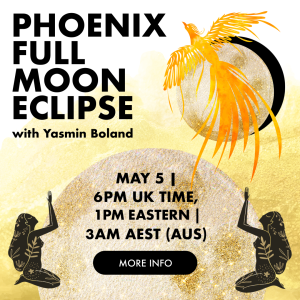 <
At our Phoenix Full Moon eclipse gathering, we'll come together online to harness the power of this celestial event for personal growth, positive change, and transformation.
If you arrive with an open heart and the will to change, you can experience the magic of the Full Moon eclipse and tap into your own innate ability to create real change in your life by first releasing what no longer serves you.
During our one-hour gathering, I'll guide you through a series of activities and exercises designed to help you tap into your inner wisdom and intuition, so you can release old patterns and limiting beliefs.
You'll be supported by a community of like-minded souls who share your desire for positive change and growth.
A guided meditation to help you connect with the energies of the Full Moon eclipse
A reflective journaling exercise to help you identify areas of your life that need realignment
A closing ceremony to seal in the energy of the Full Moon eclipse and help you integrate your experiences
But don't just take our word for it – hear from our past attendees who have experienced powerful transformations through our  past online gatherings:
"I came into the New Moon eclipse event feeling lost and uncertain, but I left feeling empowered and inspired. The guidance and support I received from Yasmin helped me tap into my own inner strength and wisdom, and set me on a new path of growth and fulfillment." – Sarah, past attendee
"I've attended many online gatherings before, but this was truly one of the most powerful and transformative experiences I've had. The sense of community and support was palpable, and I felt a deep sense of connection to the universe and my own inner wisdom." – Ingrid, past attendee
So if you're ready to harness the power of the Full Moon eclipse and make magic in your life, join us for our upcoming online gathering.
Your life-changing experience is just a couple of clicks away – sign up today and start the journey to a new you.