Had a super interesting experience today.
I was worrying A LOT about something which might NEVER happen (yay!) …
It came into my head over lunch because of a random comment and I was instantly so worried, I literally felt quite sick.
It was quite interesting to witness, how that fear rose up in me.
To be fair, I had had a dream about this thing I dread some time ago. Somehow the comment at lunch brought all the fear back.
But I was aware it was just that – fear.
So after I had lunch, I went to sit at the Hare Krishna centre in Soho. It's a temple in the middle of London's West End and a great place when you need some peace.
However they were cleaning, so it wasn't really the right vibe. Apparently I wasn't going to get to just chant my fears away. I had to work through them.
I walked back out on to bustling Oxford Street, still feeling shaken and rattled, and thought more about my fear.
I knew it was fear. Pure and simple.
There is no reason to fear the thing I was fearing.
In fact, there is every reason to think that was I was fearing won't happen.
And then I remembered.
Surrender!
Yes, good old surrender.
In that moment, I surrendered. I surrendered to the fear. I surrendered that if I have to experience this thing, well, then I have to.
I have been around the block enough times to know that this is the only way.
The only way out is through.
Om Namo Narayani.
I surrender to the Divine.
And in that moment, I felt the fear dissolve in quite an amazing way.
But still, I asked for a sign.
OK, please Universe, just give me a sign that this fear is just fear and I should let it go…
As I asked, my eyes fell upon this man's t-shirt, in the pic.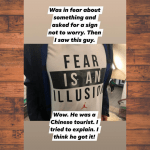 I was so taken aback, I asked him if I could photograph it!
Try surrender, if you're feeling the fear today…
---
PS… Hey New Yorkers…!
Shout out to my New York friends – if you want to know more about the incredible power of surrender, join me at my workshop in New York next month. Tickets are limited! Buy yours before September 15 to go into the draw to win a free reading with me on the day… click here for tickets.